[fr]
Un SiPM (pour Silicon PhotoMultiplier) est un dispositif de détection de photon issu de la technologie des APD (Avalanche PhotoDiode) qui peut remplacer avantageusement les photomultiplicateurs.
Un SiPM est composé de centaines de cellules photodétectrices (des APD en mode Geiger) de dimensions très réduites (entre 20 et 100 micromètres de côté). Chaque cellule réagit de manière binaire : soit elle est au repos, soit elle capte un photon et émet une quantité fixe d'électricité. Chaque SiPM est une matrice constituée de milliers cellules photodétectrices. Le signal du SiPM est obtenu en cumulant les signaux de l'ensemble des cellules. On obtient ainsi une mesure analogique de la quantité de lumière détectée par un SiPM, mesure qui peut aller du photon unique à plus de 10 000 photons détectés.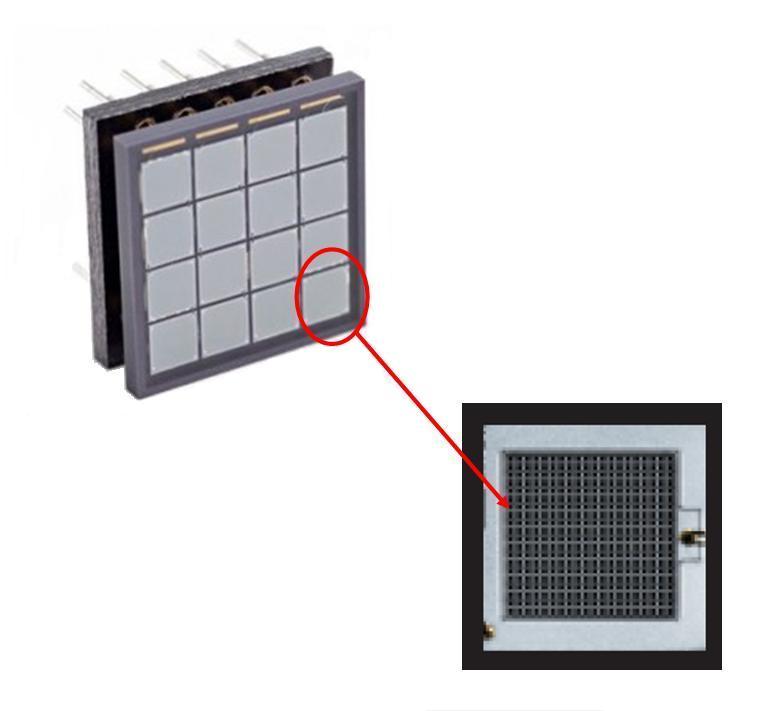 Les avantages justifiant l'utilisation des SiPM sont :
Une qualité de détection comparable au PM.
Avec un rendement quantique d'environ 20 %, et un gain d'environ 106, les SiPM possèdent des caractéristiques de détections leurs permettant de rivaliser avec les photomultiplicateurs courant du marcher. De plus, les SiPM sont moins chers.
Une insensibilité aux champs magnétiques.
Les SiPM sont actuellement les seuls photodétecteurs permettant de réaliser des mesures en présences de forts champs magnétiques. Par exemple, les sondes Axint ont permis de réaliser des mesures de comptage de radioactivité sous un champ de plus de 5 Tesla.
Une tension d'alimentation basse.
Les SiPM ne nécessitent qu'une tension d'alimentation de 30 à 70 V pour fonctionner. Ce genre de détecteurs permet ainsi de se passer des chères et encombrantes alimentations à hautes tensions nécessaires au fonctionnement des photomultiplicateurs.
Des dimensions compactes.
Si les surfaces actives permettant de détecter la lumière peuvent être identiques, les traditionnels photomultiplicateurs ont des dimensions beaucoup plus importantes que les APD ou les SiPM : plus de 10 cm de long pour un PM tandis qu'un SiPM aura une épaisseur de seulement quelques millimètres. Les sondes Axint sont ainsi de dimensions beaucoup plus réduites que les sondes classiques.
[en]
A SiPM (for Silicon Photomultiplier) is a photon detection device constructs from the technology of the APD (Avalanche photodiode). The SiPM offers an alternative to the classical photomultiplier detector.
A SiPM is composed of hundreds of photodetector cells (Geiger-mode APD) of a very small size (between 20 and 100 micrometers per side). Each cell reacts binary : either it is at rest, or it captures a photon and emits a fixed amount of electricity. Each SiPM is a matrix consisting of thousands of these photodetector cells. The signal from each SiPM is obtained by adding the signals of all the cells. Thus, one can obtain a measure of the analog quantity of light detected by a SiPM, which can range from one single detected photon to more than 10 000.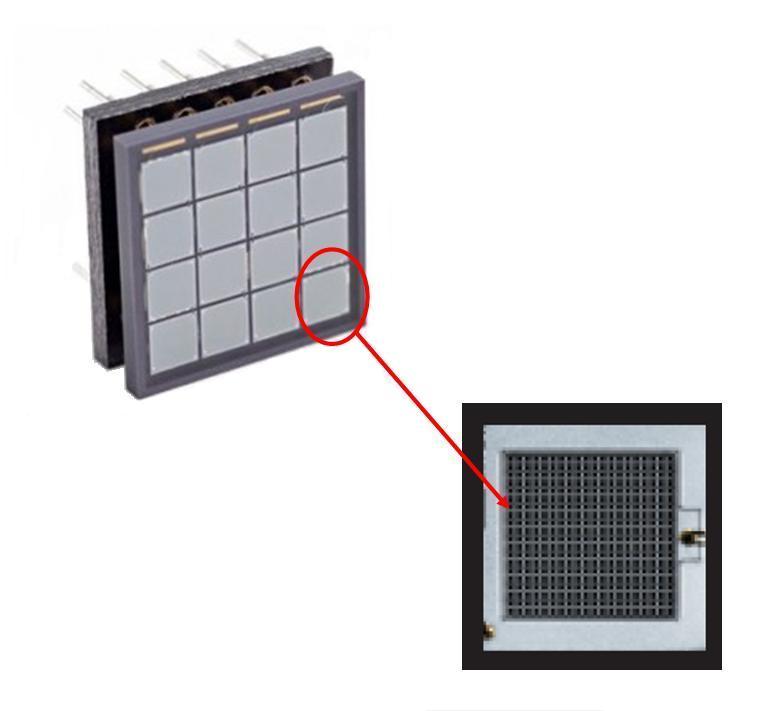 The advantages of using SiPM are :
A detection skill equivalent to photomultipliers' one.
With a quantum efficiency of about 20 % and a gain of about 106, the SiPM detection characteristics allows them to compete with the classical photomultipliers of the market. In addition, the SiPM are cheaper.
An insensitivity to the magnetic fields.
The SiPM are the only photodetectors able to make measurements in strong magnetic fields. For exemple, Axint probes have achieved radioactive counting measurements in a field of more than 5 Tesla.
A low supply voltage.
A SiPM requires only a supply voltage of 30-70 Volts to operate. This kind of sensors allows to suppress the expensive and bulky high voltage power supplies needed by the photomultipliers.
Compact dimensions.
If the active surfaces can be identical between photomultipliers and SiPM, photomultipliers are much longer than the APD or SiPM : more than 10 centimeters long for a PM when a SiPM have a thickness of only a few millimeters. Therefore, Axint probes have much smaller dimensions than the conventional probes.