[fr]
Cette sonde est constituée principalement d'un cristal scintillateur permettant de transformer les particules radioactive en lumière et d'une fibre optique permettant de conduire cette lumière jusqu'à un système d'acquisition.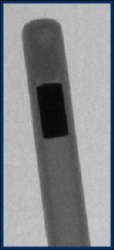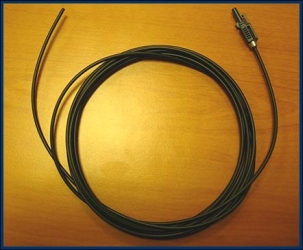 AXINT développe des mini sondes qui peuvent être utilisés dans de nombreuses applications concernant les radiotraceurs gamma :

suivi des flux dans des réacteurs,

inspection de canalisations,

mesures dans un environnement dangereux pour l'homme…
La forte densité du cristal scintillateur permet d'obtenir une très bonne sensibilité malgré les dimension réduite de la sonde. La construction des sondes permet de réaliser des mesures entre 0 et 90 °C dans tout type de milieu chimique.
Des systèmes de détections complets comprenant de 1 à 24 sondes sont disponible, incluant les systèmes électroniques d'acquisition et de traitement des données. Un logiciel d'acquisition de données en temps réel permet de compter et de contrôler les données en temps réel pour chaque sonde. Le système peut facilement être adapté pour effectuer des comptages en coïncidence.
Spécifications techniques :
Sondes:

Cristal scintillateur de Lu2SiO5.

Couplage avec une fibre optique.

Détection externe grâce à un SiPM.

Diamètre total des sondes : de 1,4 à 4 mm suivant la taille du cristal, d'une longueur de plus de 20 mètres

Diamètre du cristal : 1; 1,5 ; 2 ; et 3 mm.
Système d'acquisition :

Photodétecteur : Photomultiplicateur ou SiPM.

Etages de préamplification et discrimination.

Comptage en coïncidence en option.
[en]
This probe consists primarily of a scintillating crystal using to convert radioactive particles in light and an optical fiber conducting this light to a data acquisition system.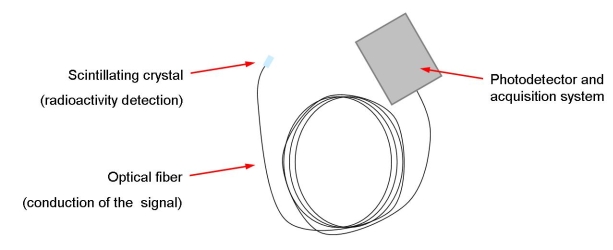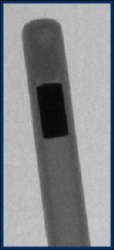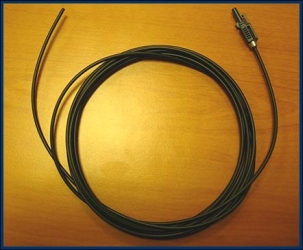 AXINT develops mini gamma probes which can be used in many radiotracer applications :

follow up of fluids flow in reactors,

insertion in canalisations,

measurements in non-human friendly environment…
High density of the detection crystal gives sufficient sensitivity to the probes. PE jacket makes it inert toward chemical products. Probes are not sensitive to temperature variations from 0°C up to 90°C.
Detection systems including 1 to 24 probes are available including data treatment and acquisition electronics, PMT detectors, and power supply. The data acquisition software allows real time events counting and monitoring on each channel. The system can easily be adapted for coincidence counting.
Technical specifications :
Probes :

Lu2SiO5 detection crystal.

Fiber optics coupling.

PMT or SiPM external readout.

Total probes diameter: Depending on crystal, 1,4 to 4 mm, length up to 20 meters

Cristal diameter : 1; 1,5 ; 2 ; and 3 mm crystals avaible.
Acquisition system :

PMT or SiPM readout.

Preamplification and discrimination stages.

Coïncidence counting (optional)