[fr]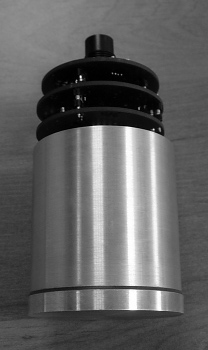 AXINT développe des détecteurs de rayons gamma qui peuvent être utilisés dans toute application de détection de rayons gamma (applications avec des radio-traceurs ou des sources scellées).
Le détecteur gamma 2 pouces est un détecteur de haute efficacité et de dimensions très compactes permettant de réaliser des mesures de comptage et d'énergie.
Le cristal scintillateur, de forte densité, permet d'obtenir une très bonne efficacité de détection. L'utilisation de SiPM (utilisant des basses tension aux environs de 30 V) nous permet de proposer un détecteur très compact, léger, stable en température et totalement insensible aux champs magnétiques, tout celà à un prix très concurrentiel.
Nos détecteurs intègrent tout l'électronique d'amplification et de comptage dans la sonde elle même. La communication avec le boîtier d'acquisition et ensuite totalement numérique. Ce mode de fonctionnement permet d'éviter les habituelles perturbation dues aux passage des signaux analogiques dans des câbles de grande longueur. Celà permet en outre de réduire fortement le coût et l'encombrement du boîtier d'acquisition.
Le logiciel d'acquisition de données en temps réel permet d'enregistrer les données sur toutes les voies, et de visualiser en temps réel une sélection de voies d'intérêt. Il permet en outre de contrôler les paramètres d'acquisition sur chaque voie (niveaux d'amplification et de trigger, calibration en température, vitesse d'échantillonnage…)
Spécifications techniques :
Détecteur :

Cristal scintillateur NaI:Tl, CsI:Tl de dimensions 2" x 2".

Photodétecteur SiPM.

Connecteur étanche 5 contacts.

Étage de préamplification.

Correction en température.

Dimensions totales : diamètre de 60 mm, hauteur de 100 mm.

Vitesse maximale d'acquisition : 1ms

Histogrammes énergétiques : 1024 canaux

Comptage max : >105cps
Système d'acquisition :

De 1 à 100 cannaux de comptage.

Alimentation en 12 ou 24 V DC.
[en]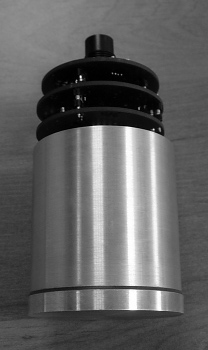 AXINT develops gamma detectors which can be used in any gamma ray detection application (radiotracer and sealed source applications).
Our 2 inches detector is a very compact, high efficiency detector that can be used for counting or energy measurments.
High density of the detection crystal gives high sensitivity to the detectors. SiPM readout allows compact and light design, stable toward temperature and magnetic fields variations, no high voltage power supply (+30V) at very competitive price.
The data acquisition software allows registrastion of all channels, and preview channels of main interest. It allows also acquisition parameters control on each channel (amplification and trigger levels, temperature calibration, datat acquisition speed…)
Technical data :
Detector :

2" x 2" NaI:Tl, CsI:Tl detection crystal.

SiPM readout.

Waterproof connector.

Preamplification stage.

Temperature variation correction.

Total detector dimensions: 60 mm diameter, height 100 mm.

Maximum acquisition speed : 1 ms

Energy histograms : 10 bits

Maximum count rate : >105cps
Acquisition system:

1 to 100 counting channels.

12 to 24 V DC power supply.