[fr]
Les sondes Axint sont composées de plusieurs éléments, certains fixes, d'autres modifiables suivant les besoin du client. On peut ainsi distinguer : le cristal scintillateur, le SiPM, l'électronique d'acquisition, le boîtier de communication Axint-detect, la communication CAN et le logiciel de traitement des données.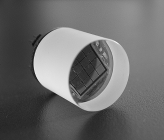 Le cristal scintillateur
Le cristal arrête les photons gamma émis à proximité de la sonde et les transforme en une quantité de lumière visible proportionnelle à l'énergie du photon gamma.
C'est un photodétecteur compact (d'une épaisseur inférieure à 3 mm) et précis (il peut détecter un photon unique) permettant de transformer la lumière visible émise par le cristal en signal électrique.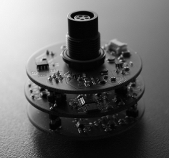 L'électronique d'acquisition
Elle permet de traiter le signal électrique issu des SiPM. Elle est utile pour filtrer le bruit, amplifier le signal, régler les seuils de déclenchement, compter le nombre de coups détectés par la sonde, ou réaliser un spectre en énergie.
Il s'agit d'un circuit intégré. C'est ce composant qui va orchestrer les différents signaux d'acquisition de la sonde, mettre en forme les données et gérer leur envoie vers la centrale d'acquisition.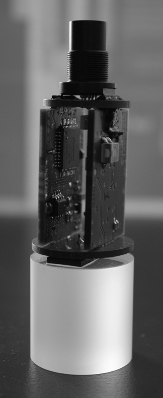 Le boîtier de communication Axint-detect
L'ensemble des sondes utilisées par un système est relié à une centrale d'acquisition Axint-detect. Celle-ci concentre les données des différentes sondes avant de les envoyer vers l'ordinateur pour qu'elles soient traitées. La centrale d'acquisition permet également à l'utilisateur de paramétrer correctement les sondes.
Pour un même système donné, le nombre de sondes (de 1 à 120) et la taille du boîtier d'acquisition peuvent être adaptés à l'application voulue
L'ensemble fonctionne simplement en reliant la centrale d'acquisition à une prise de courant classique (pas de haute tension, voltage à l'intérieur des sondes inférieur à 30 V). La faible tension de fonctionnement permet au système d'être utilisé en milieu Atex.
La communication entre les sondes et le boîtier Axint-detect est réalisée sous forme de communication CAN. Cette communication, robuste et simple, permet tous les types de branchement : les sondes peuvent être directement branchées au boîtier Axint-detect, où reliées entre elles via un seul et même câble.
Le logiciel de traitement des données
Spécifiquement construit sous Labview pour pouvoir communiquer avec les sondes, il est également modifiable selon les souhaits du client. Il sert à paramétrer les sondes, visualiser et sauvegarder les comptages de l'ensemble des sondes connectées au boîtier Axint-detect.
[en]
The Axint probes are composed of several elements. Some are fixed, others are modifiable according to the customer needs. The keys elements of the Axint probes are the scintillator crystal, the SiPM, the DAQ, the Axint-detect datalogger, the CAN communication and the data processing software.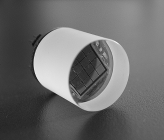 The scintillator crystal
The crystal stop the gamma photons emitted close to the probe and transforms them into visible light. The quantity of light is proportional to the energy of the gamma photons.
It is a compact photodetector, thin (less than 3 mm) and accurate (it can detect a single photon). It transforms the visible light emitted by the crystal into an electrical signal.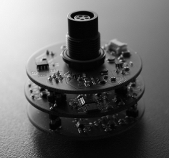 The DAQ
It can shape the electrical signal of the SiPM. It is used to filter noise, amplify the signal, adjust the thresholds trigger, determine the number of counts detected by the probe, or give an energy spectrum.
This is a small integrated circuit. This component manage the acquisition of various signals from the probe, format the data and sends them to the datalogger.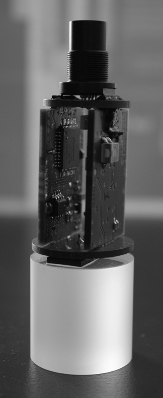 The Axint-detect datalogger
All the probes used by a same setup are connected to a single Axint-detect datalogger. It concentrates the data of the different probes before sending them to a computer. The datalogger also enables the user to communicate with the probes and adjusts their trigg parameters.
For a given setup, the number of probes (1 to 120) and the size of the datalogger can be adapted to the desired application.
No high voltages are needed by the datalogger, a simple outlet is sufficiant, and the voltage within the probes is less than 30 V.
CAN communication is robust and simple vehicle bus allowing to communicate between the probes and the datalogger with all the types of connections : the probes can be directly connected to the datalogger or interconnected via a single cable.
A Labview program has been specially constructed to communicate with the probes. It is used to set the parameters or view and save the counting rate of each probe. This software can be modify according to the customer requirements.